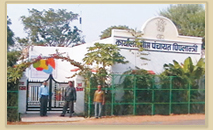 DEENDAYAL UPADHYAY GARDEN


It is another beautiful garden developed around the Doodhtalai by Urban Improvement Trust (UIT) Udaipur, the local development authority. Both the hill gardens are well maintained and give the terrace view of lakes and natural beauty. On the other hand it is the Sunset point. Behind the long range of Arravallis the sun sets in another hemisphere. The scene over the lakes gives new thoughts to poets, authors and inspiration to lovers. The musical fountain in Deendayal Upadhyay garden attracts tourists and local residents.


PT. DEENDAYAL UPADHYAY INDOOR STADIUM (SURAT, INDIA )

Ahmedabad the Standing Committee resolved to name the 100 Feet Road on the outer periphery of the Kankaria lake as Pandit Deendayal Upadhyay Marg in memory of the late Jan Sangh leader.
Deendayal Upadhyaya Marg, ITO-Delhi


PT. DEENDAYAL UPADHYAY AADARSH GRAM YOJNA


Around 77% of total population lives in 39753 villages. Besides many plans for village development, most of the villages lack basic facilities. Due to increasing population,the demand for hygiene, pure drinking water, electricity, roads, health facilities etc are increasing day by day. The rural population is migrating to urban places. By giving a thought on present criteria, its necessary to pay attention towards the development of the villages so that the people there can get financial and social basic facilities to improve their living standards. For the mentioned goal, govt. decided to start "DEENDAYAL UPADHYAYY GRAM YOJNA"

It is not possible to make all the facilities available all together in all villages. In the first phase the state Govt. in year 2006-07 decided to undertake 50 villages for this purpose. Similarly in the state on every 10 lacs one village will be selected. The villages with population of 3000 or more will be eligible to apply for DEENDAYAL ADARSH GRAM. The selection will be made with the support and participation of the rural people.
Compiled by Amarjeet Singh, Research Associate & Programme Coordinator, Dr. Syama Prasad Mookerjee Research Foundation, 9, Ashok Road, New Delhi - 110001
Content copyright © Dr. Syama Prasad Mookerjee Research Foundation