Childhood
Brilliant Student Days
Courageous, Service-Oriented and Honest
Literally a Nomad
RSS Contacts during Student Days
As a Journalist
Pioneer of Democracy
His Literary
Jansangh President
End of an Era

Pandit Deendayal Upadhyaya was active in India's political life from 1937 to 1968. He came into contact with the RSS in 1937 and discharged his responsibilities as a volunteer for five years. In 1942, he became a life volunteer and till 1951, he was active in Uttar Pradesh as a committed RSS worker. He exhibited his potential for organizational and literary capabilities during these nine years.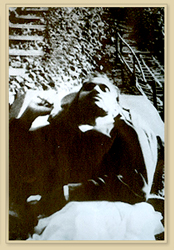 For 16 years (1951 to 1967), he was General Secretary of the Bharatiya Jan Sangh. He emerged as an allround national leader but when this seasoned leader emerged as President of his party, destiny took him away from us in a mysterious and gory end. He was the Jan Sangh President for only 43 days from December 29, 1967 to February 10, 1968.
Around 3.45 a.m. on Feb. 11, 1968, the leverman at the Mughalsarai station informed the Assistant Station Master that about 150 yards from the station, towards the south of the railway line, a dead body was lying near the electric pole No.1276. The police was alerted and the Assistant Station Master sent a memo to the police on which was written: "Almost dead." The doctor examined the body in the morning and declared it dead. When the dead body was brought to the station, a curious crowd gathered there. Till now, the dead body was unclaimed. Then one person in the crowd shouted, "This is the Bharatiya Jan Sangh President, Pandit Deendayal Upadhyaya!" The news spread like wildfire and the nation was plunged in grief.
The budget session of Parliament starts in February. The Bharatiya Jan Sangh meeting was scheduled to be held in Delhi on February l 1, 1968 and its new President was to participate in it. Upadhyaya was in Lucknow on 10th February. In the morning, the organizational Secretary Ashwini Kumar telephoned Upadhyaya. He said that since the budget session was likely to be prolonged, he should be present at the Jan Sangh Working Committee meeting at Patna on the 11th. After talking it over with the newly-elected General Secretary Sundersingh Bhandari, Upadhyaya fixed up his programme for going to Patna.
Upadhyaya travelled by third class when he was General Secretary of the Bharatiya Jan Sangh and he used to travel by passenger train instead of express train. It gave him an opportunity to read and write, as also the chance to meet the Jan Sangh workers at small stations. It was decided that, as Jan Sangh President, he should now travel first class. A first class ticket was accordingly purchased for Pathankot-Sealdah Express for him. The train left Lucknow at 7.00 a.m. His books and bedding were placed in the compartment. The then U.P. Deputy Chief Minister, Ramprakash Gupta, and former Jan Sangh President, Peetambar Das came to see him off. He folded his hands in farewell to everyone at the station. At midnight Jaunpur Ruler's personal secretary Kanhaiya Lalji Pandit came to see him at Jaunpur station. He handed over a letter from the Ruler to Upadhyaya. The train left Jaunpur at 12.1 2 a.m. and reached Mughalsarai. Sealdah-Pathankot Express did not travel straight to Patna. It reached Platform No. l at 2. 1 5 a.m. and the bogey in which Deendayal Upadhyaya was travelling was disengaged from the train and was joined to the Delhi-Howrah Express after shunting. It left Mughalsarai around 2.50 a.m. It reached Patna in the morning, but Upadhyaya was not there.
Meanwhile, the dead body had been identified at the Mughalsarai station. Golwalkar and other prominent people had been informed. The parliamentary committee was in session at Delhi. It was adjourned and all the leaders reached Varanasi and his body was brought to Delhi. Upadhyaya used to stay at parliamentarian Atal Behari vajpayee's residence at 30, Rajendra Prasad Marg. His lifeless body was brought there. People from all over India reached Delhi. Guruji Golwalkar was already in Varanasi because of his intimate relations with Upadhyaya. Guruji was not only the Sarsanghachalak of the Rashtriya Swayamsevak Sangh but a great soul. Deendayal was his follower but the two had a two-bodies-one-soul association. Generally unperturbed, when Guruji approached Upadhyaya's dead body, his eyes filled with tears and he could only say in a choked voice, "Oh what has happened to him!''
Deendayal's body was carried to the plane and Guruji climbed up the stairs. He placed both his hands on Upadhyaya's face and brought them up to his eyes. He repeated this thrice and said in grief, "Many people run families, they can imagine the loss. Since I do not run a family, my sorrow in hundred fold. I won't say anything about our personal relations. A11 that I can say is that God has taken away Deendayal from us. I read an old saying in English which said, "Those whom the gods love, die young."
Delhi was plunged in grief. All offices and shops were closed and people thronged towards Rajendra Prasad Marg. The police and the volunteers found it difficult to control the surging crowds carrying wreaths, and flowers. Everyone was stunned. Who was the murderer that had so cruelly taken the life of sagelike Upadhyaya, who did not have a single enemy in the world? There was no answer; everyone was grieving.
On the morning of February 12, India's President, Dr. Zakir Hussain, came to offer his homage. Prime Minister Indira Gandhi and Morarji Desai laid wreaths on the dead body. Leaders, social workers, cultural figures. etc., all lined up to pay their tributes. Delhi was there in large numbers to express its sorrow.
Around l p.m., Upadhyaya's mortal remains were placed on a carriage to prepare for the final journey. Four mounted policemen were marching in front. They were followed by senior Jan Sangh leaders on foot. On both sides were lined up thousands of people showering flowers on the carriage. The rear was brought up by women chanting mantras. The carriage winded its way through the streets of Delhi and reached the Nigambodh Ghat around 6 p.m. The last tributes were paid around 6.45 p.m. and it was around 7.06 p.m. that Deendayal's maternal cousin Prabhudayal Shukla lit the holy pyre and Deendayal's body became one with the elements.
His death was as shocking as it was mysterious. The mystery remains unsolved to this day. Who knows whether it would be solved ever? Everyone was stunned by his untimely demise. Words cannot describe the shock experienced by his admirers and followers. It would be better to quote verbatim from what Guruji Golwalkar, who was his guide and mentor, and Atal Behari Vajpayee, who was his successor, said. Guruji said:
"The heart is filled with sorrow. One wonders how all this could have occurred; this is a matter of investigation. Whatever the truth, the Sangh has lost a dedicated worker. He was at the zenith of his career and held potential for doing much more in later life. But now all possibilities are lost. I met him a couple of days ago. I asked him, 'What is your next programme? Where do we meet next? He said he was leaving for Patna and he would see me after a few days in Kanpur. But the accident occurred even before he could reach Patna.''
Compiled by Amarjeet Singh, Research Associate & Programme Coordinator, Dr. Syama Prasad Mookerjee Research Foundation, 9, Ashok Road, New Delhi - 110001
Content copyright © Dr. Syama Prasad Mookerjee Research Foundation