Childhood
Brilliant Student Days
Courageous, Service-Oriented and Honest
Literally a Nomad
RSS Contacts during Student Days
As a Journalist
Pioneer of Democracy
His Literary
Jansangh President
End of an Era

The circumstances were such that there were no proper arrangements for his regular schooling till Deendayalji was nine.
He started his education in 1925 when he came to stay with his maternal uncle Radharaman at Gangapur. There was no the student in the house; conditions were thus not conducive to pursuing his studies at that place. The household was torn and tortured between untimely tragedies; the atmosphere was consistently full of tension.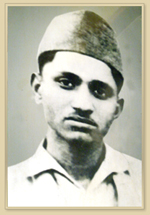 To top it, there were no facilities. Deendayalji was a student of class two when his maternal uncle Radharaman fell seriously ill. Deendayalji accompanied him to Agra for his care and treatment. Radharaman returned to Gangapur just a few days before Deendayalji's exams. He, however, stood first in the class. He passed classed three and four while looking after his uncle. It was at this time that the family and the school realized how brilliant and talented Deendayalji was.
He studied at Kota for classes five to seven. He came to Rajgarh for class eight where his extraordinary talent in arithmetic was revealed. It is said that when Deendayalji was in class nine, students of class ten would come to him for help in solving their problems. He had to shift to Sikar when his uncle was transferred there. It was from Sikar that Deendayalji matriculated. He stood first in the board exam and the then ruler, Maharaja Kalyan Singh of Sikar, presented him with a gold medal, a monthly scholarship of Rs.10 and Rs.250 towards his books, as recognition of his merit.
Pilani was a famous centre for higher learning, in those days. Deendayalji went to Pilani to study for his Intermediate. He not only topped the board exam in 1937, but also obtained distinction in all subjects. He was the first student of Birla College to have fared so well in the exam. Like the Maharaja of Sikar, Ghanshyamdas Birla too presented him with a gold medal, a monthly scholarship of Rs.10 and Rs.250 towards books, as recognition of his merit.
Deendayalji graduated in first division from Sanatan Dharma College, Kanpur in 1939 and joined St. John's College, Agra for pursuing his master's degree in English Literature. In the first year, he obtained first division marks, but he could not appear in the final year exam on account of his cousin's illness.
His maternal uncle persuaded him to sit for the Provincial Services Exam, which he passed and he was selected after interview. But he was not interested in administrative service. Deendayalji, therefore, left for Prayag to do his B.T. His love for studies increased manifold after he entered public service. His special areas of interest were sociology and philosophy, seeds of which were sown during his student days.

(Excerpts from the book -" Pandit Deendayal Upadhyaya" written by Dr. Mahesh Chandra Sharma)
Compiled by Amarjeet Singh, Research Associate & Programme Coordinator, Dr. Syama Prasad Mookerjee Research Foundation, 9, Ashok Road, New Delhi - 110001
Content copyright © Dr. Syama Prasad Mookerjee Research Foundation