Childhood
Brilliant Student Days
Courageous, Service-Oriented and Honest
Literally a Nomad
RSS Contacts during Student Days
As a Journalist
Pioneer of Democracy
His Literary
Jansangh President
End of an Era

When he was just seven or eight, dacoits raided his house. One of them pushed aside his aunt's chest and demanded ornaments that were there in the house after felling down Deendayalji and stomping upon his chest. Wriggling under the dacoit, Deendayalji softly told him, ''we had hearth that dacoits rob only the rich and protect the poor. But you are hurting a poor creature like me. The leader of the gang was impressed with the child's fearlessness; he returned with his gang without robbing the house.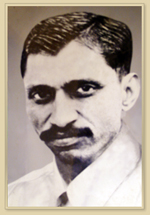 The circumstances in which Deendayalji was brought up could have turned him either into a rebel out of frustration or extremely disciplined and devoted person. He turned out to be the latter. When he was eleven in 1927, Deendayalji's maternal uncle Radharaman fell seriously ill. There were no arrangement to look after him there and he had to for treatment. Deendayalji accompanied him to Agra and looked after him. Deprived of the love and affection of his parents and in the absence of any material acquisitions, Deendayalji held a respected place in the household devotion to service, humility and modesty played a significant part. While staying with his maternal uncle Narayan Shukla, in Rajgarh, Deendayalji looked after his four children like a concerned elder brother and won their hearts with his affection and devotion. When he studied at Pilani, his maternal uncle Radharaman's son, Prabhudayal Shukla and his third maternal uncle Babulal's sons, Kameshwarnath and Rameshwaranath also received similar care and affection from Deendayalji. He not only helped them in their studies, but also looked after all their needs.
His looked after his younger brother Shivdayal for a long time. He couldn't do it for long because of Shivdayal's untimely death, but Deendayalji always remembered this younger brother whom he had looked after tirelessly till the end. Similarly in 1940 when his maternal cousin Ramadevi fell seriously ill, Deendayalji not only left his post-graduate studies midway, he treated her with naturopathy when all the doctors and physicians had given up hope of her survival. But he could not save her life despite his best efforts.
He had impressed everyone with his scholarship at Rajgarh and Sikar, but this did not inflate Deendayalji's ego. Instead, it generated an urge in him to help weaker students. He organised Zero Association in Pilani to help the students weak in studies.
His circumstances were not such that Deendayalji could resort to any mischief. Nor was there anyone to indulge him in his mischief at any stage of his childhood and youth. He, nevertheless, had childlike innocence, simplicity and a dash of mischief in his nature. But once someone stopped him from doing anything, he never repeated the mistake. His maternal aunt and cousins cherished his younger days when Deendayalji was a model child. During his student days, Deendayal Upadhyaya ji lived in the company of Nanaji Deshmukh, who a recounts an instance of Deendayalji's inherent simplicity and honesty thus:
"One day, we had gone to buy vegetables from the market in the morning. We bought vegetables worth two paise. As we were about to reach back home, Deendayalji suddenly stopped and said there was something seriously wrong. He had four paise in his pocket, one of which was counterfeit, and he had given that to the vegetable vendor. He had two genuine coins in his pocket. We must go back and give her the genuine coin."
"He had feelings of guilt on his face. We went back to the vegetable vendor and told her the truth. But she told us that she had no time to look for the counterfeit coin amid the heap of coins she had collected. She asked us to go back, but Deendayalji searched and ultimately found his blackish counterfeit coin from among the change she had collected, took it back and gave the genuine coin to her. Only then was he satisfied. The old woman, the vegetable vendor, was touched. She blessed Deendayalji.'

(Excerpts from the book -" Pandit Deendayal Upadhyaya" written by Dr. Mahesh Chandra Sharma)
Compiled by Amarjeet Singh, Research Associate & Programme Coordinator, Dr. Syama Prasad Mookerjee Research Foundation, 9, Ashok Road, New Delhi - 110001
Content copyright © Dr. Syama Prasad Mookerjee Research Foundation