Childhood
Brilliant Student Days
Courageous, Service-Oriented and Honest
Literally a Nomad
RSS Contacts during Student Days
As a Journalist
Pioneer of Democracy
His Literary
Jansangh President
End of an Era

When he was studying for his graduation at Kanpur in 1937, Deendayalji came into contact with Rashtriya Swayamsevak Sangh (RSS) through his classmate Baluji Mahashabde. He met the RSS founder,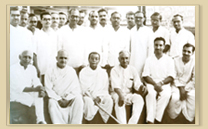 Dr. Hedgewar there. Hedgewar used to stay with Babasaheb Apte and Dadarao Parmarth in the hostel. Deendayalji invited him for an intellectual discussion at one of the
shakhas
. Sunder Singh Bhandari was also one of his classmates at Kanpur. This gave a fillip to his public life.
Deendayalji was a student from 1937 to l941 when he passed his B.T. from Prayag. But he did not enter a job; nor did he marry. He had attended the 40-day summer vacation RSS camp at Nagpur where he underwent training in Sangh Education in 1939 and 1942.
Deendayalji, however, could not withstand the physical rigour of the training, but he stood out in its educational segment. Babasaheb Apte writes in this connection: "Pandit Deendayalji versified several parts of his answers. It was not merely versification, nor was it a flight of imagination. He simply adopted the medium of verse instead of prose in writing his answers. It was balanced and logical. I could not help being impressed by hill.
After completing his education and second-year training in the RSS Education Wing, Pandit Deendayal Upadhyaya ji became a lifelong pracharak of the Sangh and he lived this life till the very end. He entered politics through the Rashtriya Swayamsevak Sangh, became the General Secretary of the Bharatiya Jan Sangh, and later its President. His life was thus an embodiment of thorough political thought process.

(Excerpts from the book -" Pandit Deendayal Upadhyaya" written by Dr. Mahesh Chandra Sharma)
Compiled by Amarjeet Singh, Research Associate & Programme Coordinator, Dr. Syama Prasad Mookerjee Research Foundation, 9, Ashok Road, New Delhi - 110001
Content copyright © Dr. Syama Prasad Mookerjee Research Foundation