Childhood
Brilliant Student Days
Courageous, Service-Oriented and Honest
Literally a Nomad
RSS Contacts during Student Days
As a Journalist
Pioneer of Democracy
His Literary
Jansangh President
End of an Era

Deendayal Upadhyaya was General Secretary of the Bhartiya Jan Sangh from its first Kanpur session in Dec. 1951 to its 14th Cabinet session in Dec. 1967. The Jan Sangh sessions, movements, plenary thinking and resolutions, all bore an imprint of his personality. His spells of stay in all parts of the country made him easily accessible to the party cadres. The General Secretary's report at every session was not a mere formal presentation of data, but was an enthusiastic and spirited call for further momentum to the party. The General Secretary's reports are a frank assessment of the journey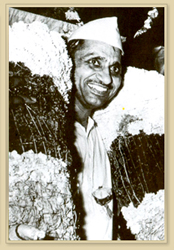 and progress of the party. They are not merely documents listing its achievements but also a diary of national events. His reports on the 1952, 1957 and 1967 general elections in the country are high-order researches, befitting the research carried out at a university. In these documents he has assessed the political situation, the manifestoes of various political parties, his comments on the various incidents, complete graphs, tables and diagrams in a well-ordered fashion. These documents can prove to be of immense help for any historian. These documents are also guiding lights for political workers.
The years 1952 to 1957 were not only the nascent period of this new political party, but were also the years of survival for Bharatiya Jan Sangh; these were the years when unlimited energies were required to shape its policies and programmes. The untimely demise of Dr Mukherjee, the issue of Bharatiya Jan Sangh's merger with Hindu Mahasabha and Ram Rajya Parishad, the lack of a leader of national stature in the party, leadership of highly inexperienced youth at the national and state levels, etc., were subjects that made people apprehensive of Jan Sangh's existence.
"There was a general belief in political circles that the Bharatiya Jan Sangh will not continue after the death of its founder, Dr. Shyama Prasad Mukherjee. We have spent the last five years fighting this apprehension. The results of the second general elections have proved that the Bharatiya Jan Sangh has not only survived, but is progressing as well. We could not have been true to our leader if this had not happened.''
During these initial five years, despite being busy with the first general elections and organizing a mass movement in Kashmir, Upadhyaya and his associates were able to provide a framework of the Bharatiya Jan Sangh. By 1957, the Jan Sangh had 243 regional and 889 local committees, and its membership rose to 74,863. The first general elections in 1952 were not particularly encouraging. Only Dr. Mukherjee and two of his friends were elected to Lok Sabha. The organisation was not very helpful in this, but the Jan Sangh, on the basis of its scoring 3.06% of the votes; was recognised as a national political party. In his address at the January 1954 session in Mumbai encouraging the party workers to have faith in the party and be enthusiastic. Upadhyaya said: ''Adult franchise is a big step towards educating the electorate politically. We will have to educate the public appropriately for the success of democracy. Our attitude has been vitiated as a result of over a thousand years of slavery... Narrow-mindedness and blind tradition have harmed our progress. Discrimination on the basis of caste and untouchability have shaken the foundations of our society. English education has given us wrong values of life. There is lack of discipline and self-restraint. We no longer believe in the dignity of labour. We must establish the right values for educating our countrymen. We must make them aware of the oneness of this country, spread from Kashmir to Kanyakumari...Awareness is the guarantee of a nation's bright future….There is lack of wealth everywhere but this cannot be met from outside. We must assimilate all our resources, save and spend less. We must concentrate on our ultimate objective and move ahead with self-confidence and dedications."
Instead of showing his co-workers and volunteers a short cut to win elections, Upadhyaya inspired them to move on to the long path of basic principles. Instead of asking them to work enthusiastically for short-term gain, he asked them to work with devotion and dedication.
The concept of a cultural nation that the Jan Sangh had propounded resulted in the setting up of a number of cultural centres in the first year of its inception. Chiefs of local municipal bodies were elected. Upadhyaya's initial area of work was Uttar Pradesh. He particularly inspired and enthused the workers there. In his address, he said: "By God's grace, the Jan Sangh representatives have been elected in Ayodhya, Mathura, Vrindavan, Gokul, Haridwar, Rishikesh and other pilgrim centres. Without tomtomming the slogan of non-violence, the Jan Sangh chief succeeded in banning not only cow slaughter but slaughter of all animals at Mathura. "Although the state government has announced putting roadblocks in our path, the people at large have given the Jan Sangh's elected representatives an opportunity to serve them. They will firmly move on this path of service to the people, failing which they will quit and join the people in their tight for civic rights.''
Many local units were successful in Uttar Pradesh. In particular, out of the 970 contestants, 581 were successful there. The Jan Sangh workers had just entered politics, they also had to work as an opposition. The opposition has its own duty to perform, the chief being to tight for peoples' rights with the government. Communists exercised influence over the opposition at that time. Upadhyaya did not like their attitude, nor did he favour their methodology.
Compiled by Amarjeet Singh, Research Associate & Programme Coordinator, Dr. Syama Prasad Mookerjee Research Foundation, 9, Ashok Road, New Delhi - 110001
Content copyright © Dr. Syama Prasad Mookerjee Research Foundation